Xiamen University
Xiamen University was founded in 1921 by Tan Kah Kee, the well-known patriotic overseas Chinese leader. It was the first university in China founded by an overseas Chinese. At present it is the only key comprehensive university directly affiliated with the Education Ministry in any of the five special economic zones and is one of China 's higher-level universities designated for the state key construction of the "211 Project" and the "985 Project".


With its 18 schools containing 45 departments and a group of research institutes, Xiamen University has a high-standard staff of 2,213 teachers, with professors and associate professors.

The university now has a total enrollment of over 3, 3000 full-time students on campus, including 18,989 undergraduates, 10,591 master students, and 1,810 doctoral students. In 2005, Xiamen University passed National Undergraduate Teaching Assessment with a result of all excellence. Up until now, it has set up more than 80 research institute, which ensures its outstanding achievements in scientific research, especially in humanity, sociology, Taiwan research, South Asia research, economy, and accounting, etc. Xiamen University has established inter-university cooperative ties with over 100 institutions of higher education outside mainland China. In 2005, over 1600 long-term and short-term overseas students studied here.


With three campuses, Xiamen University covers a total area of 7868 mu, about 524.3 hectors. Situated at the foot of the green mountains, facing the blue sea and encircling Xiamen bay, it is believed to be the most beautiful university in main land China. At present, the university has students' residential space of over 1,300,000 square meters, a library with 3,750,000 volumes. The scope and level of its high-speed campus information network ranks as one of the tops of all universities in China

Xiamen University is now making great strides towards its goal of "building a high-level university well-known both at home and abroad." (Updated in April, 2006)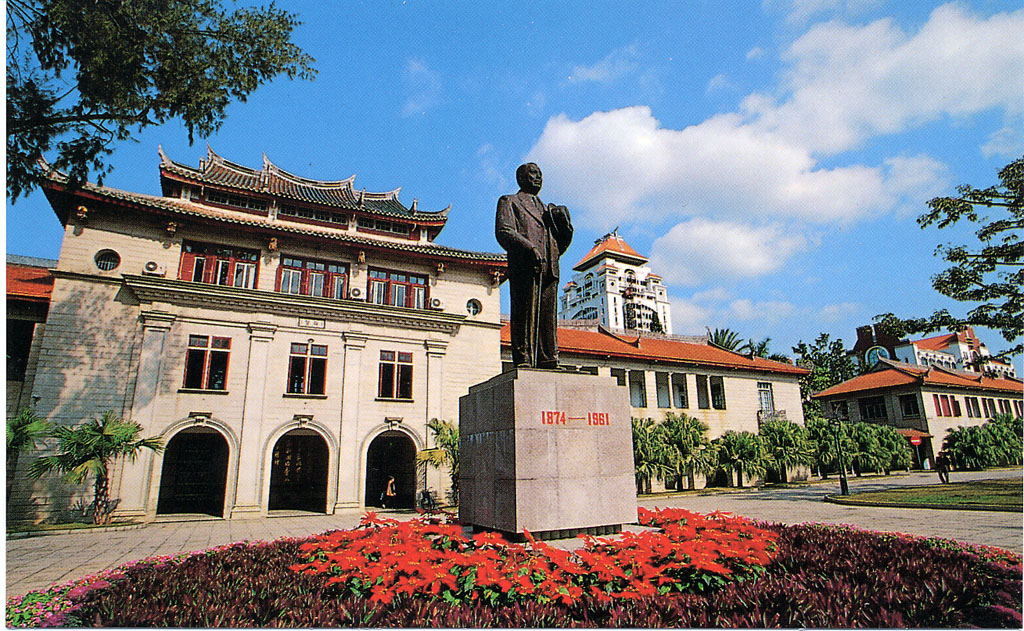 History

1921: founded by Mr. Tan Kah-Kee

1937: given its charter as a public university

1952: designated a comprehensive university for the social and natural sciences

1963: designated a national key university

1986: initial trials of the Graduate School

1995: put on "211 Project" list

1996: authorised by the Education Ministry as one of the first group of universities to set up a graduate school

2001: listed under the "985 Project"

2004: granted status of "National vice-ministerial university"

University Motto: "Pursue excellence, strive for perfection"